Detached Home in Oakville

A detached home in Oakville is just one of the many types of properties you can buy in this desirable little city that's big on history, recreation, and a great way of life. Like any other town or city in the Greater Toronto Area you can expect to find custom built homes, town homes, condos, apartments, duplexes, estate homes and detached homes in Oakville, but out of all of those you'll find detached homes are the most common, i.e. there are more detached homes for sale at any one time in Oakville than there are any other property type.
Whether you call them single family homes or detached homes it's the same thing here in Oakville, but if you're unsure of the definition we'll fill you in – a detached home stands on its own, it's not attached to another home in any way and it usually stands fairly centrally within its own lot. The lots tend to be larger than those you would get with a town home, and a key feature is that a detached home is normally a freehold title i.e. you own the home and the land it sits on.
With nobody living on the other side of your living room wall it means you have the freedom to make as much noise as you like (within reason of course!), and for many people this sense of privacy is the main appeal of a detached home in Oakville.
Where to Buy Detached Homes in Oakville
With more detached homes than any other types of homes you're really spoilt for choice when it comes to buying – you could see this as a positive or a negative! Using a local real estate agent can help to narrow down your choices. You can get advice on which neighbourhoods would be most suitable for you based on your preference for the size of the home and most importantly your budget.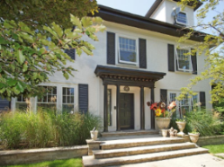 Homes in Oakville are expensive because this is such an attractive and desirable place to live, though of course each neighbourhood has its differences. If you're looking to buy in the most expensive and exclusive part of the town look no further than Morrison where you should expect to pay $800,000 and upwards.
There are other high-end neighbourhoods in Oakville too, where the prices can be into the millions. Joshua Creek is one – it's a newer community that really appeals to executives and their families thanks to great transport links, and proximity to excellent schools, shops and recreation. This is a popular place to buy a detached home in Oakville but these aren't the only property types available here – executive town homes, and condos are being built too.
If your budget doesn't stretch this far, don't worry, Oakville does have homes at the more affordable end of the scale too! Glen Abbey is a lovely neighbourhood centred around the famous Glen Abbey Golf Course – yes, there are exclusive enclaves of detached homes and town homes in this part of the town too, though some of the more established streets of Glen Abbey feature older detached homes that can be priced from the mid $300's and up.
Clearview, College Park, River Oaks, West Oakville, and Westmount are also neighbourhoods that have detached homes in Oakville, and they are priced a little more affordably in these more established parts of the town compared to the newer communities.
To return from this Detached Home In Oakville page to the Oakville Homes And Condos page, click here.