Coronation Park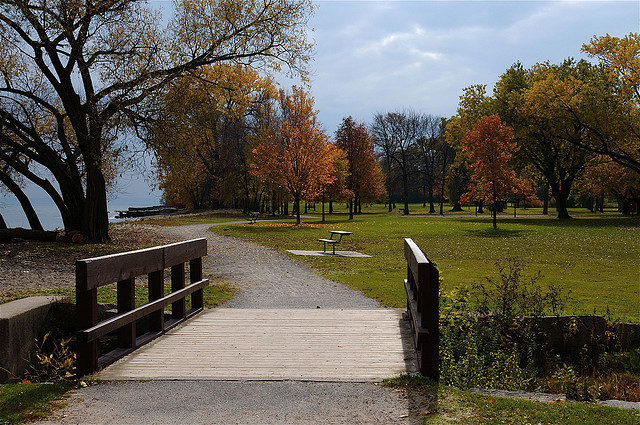 Coronation Park is the name of one of Oakville's public parks as well as the name of the small neighbourhood that surrounds the park in South West Oakville. Sitting on the shores of Lake Ontario makes this one of the most popular parks in Oakville and it's a really desirable place to live too!
Homes in Coronation Park
This quiet residential area is really attractive; full of mature trees that provide natural screening to detached homes, and give the neighbourhood a real sense of the countryside. Rather than being just a collection of grid pattern streets, the residential streets in the Park amble their way along, providing an interesting assortment of lot shapes and sizes.
The biggest thing that homes in this neighbourhood have in common is the lot size, they're all spacious, making this a popular part of Oakville for families. Children can enjoy running and playing in extensive back yards, while in the park itself there's a fun kid's playground with swings, fort, slides and more. And in the summer you can enjoy the lake and the splash pad which is really popular with kids wanting to cool off! On average homes in this neighbourhood sell for between $450,000 and $900,000 with prices increasing the closer to the lakeshore you get.
The Park, Schools, and Amenities
So the park itself is probably the best known and loved thing about Coronation Park. It's right on the lake and there's a sizeable beach to enjoy during the summer months in addition to that splash pad and kid's playground. There's even a beach volleyball court, and there are several trails to wander around the park including a section of the beautiful Waterfront Trail.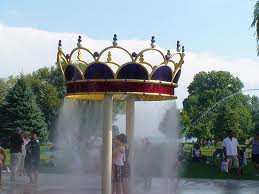 The park has ample free parking, but on a busy summer's day it does get full quickly, so get here as early as you can! Alternatively the bus stops right outside the park. There are also lots of picnic tables, but again they're in high demand on summer weekends and holidays so get here early to claim your space!
For shopping, the park has Hopedale Mall where there's a good selection of useful, everyday stores. And here you'll find Hopedale Bowl, where there's 5 pin bowling fun for all ages.
Oakville's schools have an excellent reputation and some of the best in the province can be found in the town's neighbourhoods. Here in Coronation Park there is the T.A. Blakelock High School, Oakville Christian School, and Patricia Picknell Elementary.
Being a mainly residential area you'll find that there are homes more than anything else here, but the neighbourhood does have its own library and a number of churches. On the whole it's a leafy residential neighbourhood that will appeal to families and those who are looking for larger homes and larger lot sizes, but if you can't find a home here that appeals you can broaden your search to the rest of South West Oakville. There are numerous detached single family homes in this part of the town along with a variety of other homes including apartments and town homes, as well as some high-rise condos.
To return from this Coronation Park page to the Oakville Homes And Condos page, click here.