Oakville Apartment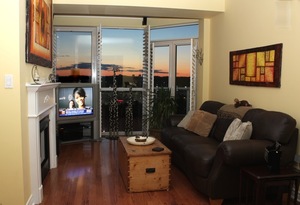 There is a great demand for Oakville apartment rentals as increasing numbers of people are finding their way to the beautiful lakeshore community. When you live in Oakville, you are getting the best of both worlds. You get the flair and draw of the city but at the same time, you get a friendly, down-to-earth community that makes you feel like part of a giant family.
Oakville is located directly between two of Ontario's largest cities, Toronto and Hamilton. Each is no more than a 30-minute drive away. If you work in either city, it's an easy commute on Highway 403 or 407. Even if you do not work in either city, being able to get in your car and take in a Blue Jays game in the summer or a Maple Leafs game in the winter is nice. When you have an Oakville apartment, you will have easy access to Toronto and Hamilton, and you are also not far from the U.S. border and New York state.
If you want a great Oakville apartment, look at those available in the older part of town. Oakville was founded in the early 1800s, and as more industry came to town, it began to grow. Neighboring villages like Bronte and Palermo were incorporated into Oakville in the 1960s, but the old part of town, Old Oakville, is where the original city was located. Today, many of the old buildings built in the 19th century have been converted into apartments, restaurants, and much more. Old Oakville is one of the coolest places in all the city. Even if you choose to live elsewhere, make sure you visit this section of town.
One of the things that is a big draw to Oakville is its economy. While many other areas have struggled in recent years, the Oakville economy thrives. This may be due at least in part to the 260 national and international corporate headquarters that are located in and around the city. If you find an Oakville apartment, you should have no trouble finding employment. The city's economy revolves around manufacturing, which is specialized in the automotive and aerospace industries, digital media and animation, the medical industry, and other professional services. Education is important to Oakville residents, and the workforce is among the most educated in the province. There are numerous opportunities available in a variety of industries.
Living in Oakville can be a very rewarding experience. With its location and heritage as well as its thriving economy, the city also has plenty to offer residents in the form of recreation and entertainment. If you have an Oakville apartment, you will easily be able to head on over to the Oakville Centre for the Performing Arts, which offers numerous dance, music, theatre, and comedy shows throughout the year. The Oakville Ballet Company and the Oakville Symphony perform call the centre their home and hold events and performances there throughout the year.
The annual Downtown Oakville Jazz Festival is held each summer and brings a number of free concerts to the city over a span of three days. Normally held in August, six different stages are used to provide free entertainment to city residents. You can even get free transportation throughout the city provided by the Oakville Transit. The jazz festival and the Oakville Waterfront Festival are both huge events that attract upwards of 100,000 people.

To return from this Oakville Apartment page to the Oakville Homes And Condos page, click here.